Rail Embankment Monitoring on Sydney's South Coast Line using In-Place Inclinometer/ Extensometers (IPI-X)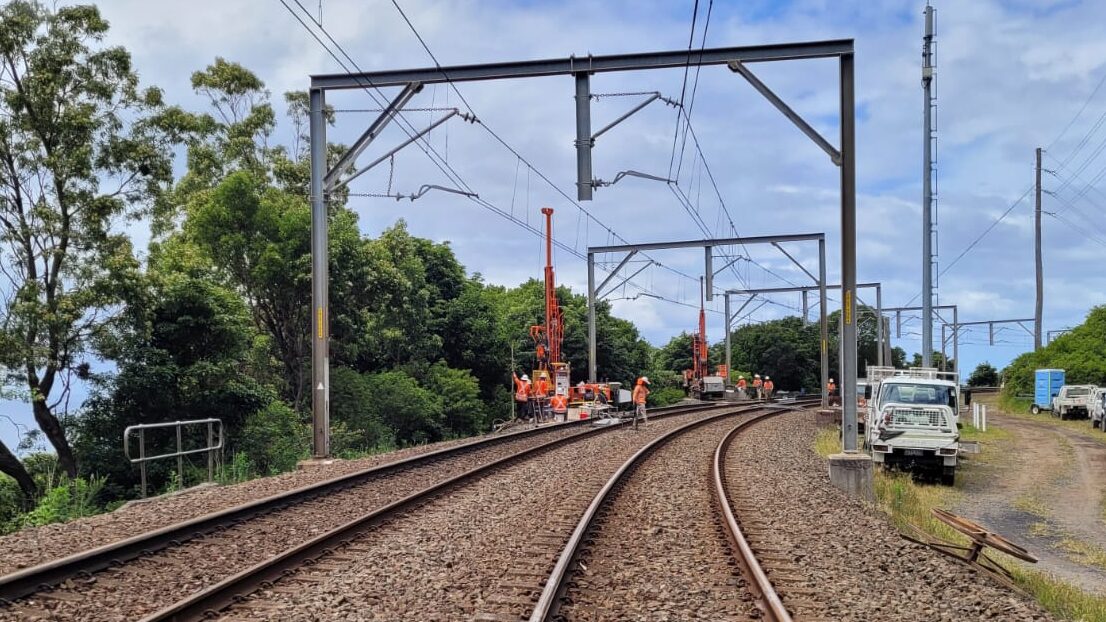 Sydney's South-Coast line services coastal commuters and tourists, as well as running coal and steel to and from Port Kembla's steel mills, and ballast from the quarries further south. Between Waterfall and Thirroul the line teeters on the edge of an ancient sandstone escarpment bringing subtropical rainforest down to the beaches below. While this geography lends to terrific views, it also presents some incredibly challenging ground conditions.
Positioned as it is, the line is vulnerable to landslides and with an increase in extreme weather events that threaten slope stability, coupled with an increase in services using the line, monitoring, maintenance, and pre-emptive remediation is becoming increasingly critical in keeping the line operational. Following the tragic Coledale landslide in 1988, network operator Sydney Trains has been extensively using instrumentation and monitoring for embankments. Sydney Trains' Geotechnical team aims to introduce a wide range of instruments, including piezometers, inclinometers, extensometers, rain gauges and tilt meters, to build a robust early-warning system with adequate redundancy and reliability built into the system.
The threat of slope failure starts well below the surface and understanding changes in ground conditions at depth is fundamental to assessing geotechnical risk to rail. Inclinometers offer rail asset managers a means of precisely measuring lateral movement of slopes and embankments from the top down, providing key information to feed into risk assessments, ground reinforcement or remediation designs, and emergency action plans. In-Place Inclinometers (IPIs) further facilitate these activities by offering remote, real-time information on sub-surface lateral deformation delivering data at a higher frequency, providing crucial information such as rate of change and acceleration, correlation to weather and traffic events, and, crucially, enabling real-time alarms for early event intervention.
With that said, it is becoming clear that lateral deformation is only part of the picture. To fully characterise the nature and location of subsurface activity, vertical movement must also be accounted for. The In-Place Inclinometer/ Extensometer (IPI-X) was developed through a collaboration between Osprey Measurement Systems and Geosense Ltd. to offer a complete profile of lateral and vertical deformation. Using magnetic rings around the inclinometer casing, vertical ground movement is precisely measured using In-Place Extensometer sections integrated into the IPI string.
Last weekend, Osprey partner, Geomotion Australia, installed combined inclinometer/ extensometers as part of a slope monitoring system, which in turn is part of the wider monitoring program being implemented across the South Coast line. The system provides near-real time displacement data, reporting both lateral and vertical movement. The sensors are read using Worldsensing's LoRa based G6 data telemetry system and is processed and presented seamlessly on Geomotion's proprietary data management platform, Geomotion Cloud.
When asked about the motivation behind proposing IPI-Xs, NSW state manager James Debney says "The key challenge on these sites is drilling rig access. The sites are remote, and we have limited track possession time to complete the installations. By using a combined inclinometer/ extensometer system we halve the number of boreholes needed, reducing the number of rigs required and the time taken to drill. This means saving cost and time on site." He adds, "One continuous profile is ultimately preferred over attempting to correlate data from two adjacent systems."